Green Field Family Campsite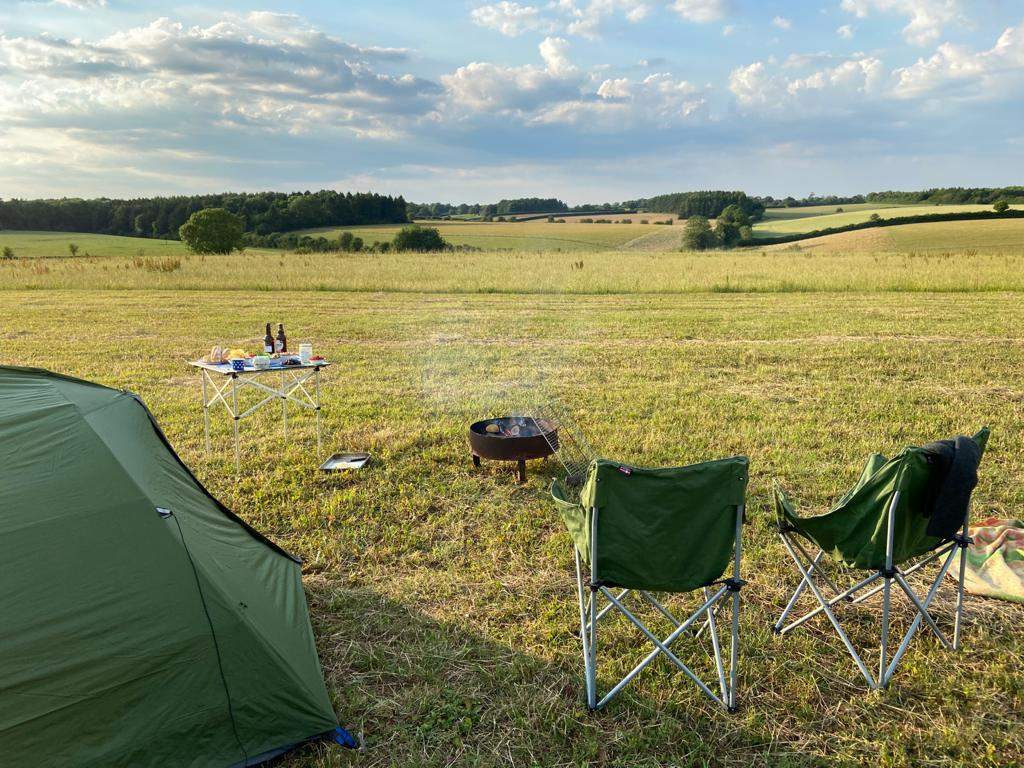 Opening 29th March 2024 until 28th September 2024
A beautiful family campsite with stunning views across rolling Cotswold farmland. Simple laid back facilities - 2 separate cold taps and 2 cold water washing up area, two hot gas showers, compost loos (NEW FOR 2022!). All water is from the farm bore hole, safe and delicious to drink. No allocated pitches, choose a spot on arrival on either the vehicle free side or the camper van field. Stroll five minutes through the wood to the farm shop and stock up on food grown and raised all around you.
Explore the farm....during the summer there are farm walk, tours and activities. Booking essential.
Please read all info on the FAQs below, BEFORE booking as bookings are non-refundable.
Cost
2 night minimum stay over bank holiday and summer holiday weekends.
Adults (over 12yrs) : £8 per night
0 - 12yrs : £4 per night
Book Now
Highlight the NIGHTS you would like to stay (not arrival and departure dates).
Please be aware of our check in times
Please enable Javascript to use our booking system
FAQs
DO WE HAVE TO BOOK?
Yes - all bookings to be made online in advance.
CAN WE CANCEL OR TRANSFER OUR BOOKING?
We do not operate a cancellation or change of date service (even if the weather doesn't look great!).
WHAT TIME AND WHERE / WHEN CAN WE CHECK IN?
Check in is at the FARM SHOP.
Tues - Sat 9 - 5
Sun 10 - 4
However please note there are NO check ins/arrivals on Mondays.
You will need to get the vehicle passes and gate codes at then shop. Please remember to allow LOTS of time for traffic jams on Fridays in particular.
After the shop is shut there will be nobody here to book you in and there is no access to the site without directions and the gate codes. For security purposes we do not give codes in advance or check anyone in over the phone.
WHAT TIME IS CHECK OUT?
Check out 12midday.
**CAN WE INVITE DAY/EVENING VISITORS ONTO THE CAMPSITE?
Guests are welcome for a small charge £5 adult, £2.50 children, to book in and get a car pass at the shop.
THERE ARE TWO CAMPING FIELDS - WHAT'S THE DIFFERENCE?
1) VEHICLE FREE SITE (NO vehicles even for loading or unloading)
Camp on the large field overlooking the beautiful valley ; leave your car in the car park next door and use the wheel barrows to take your gear to the field.
OR
2) SMALL CAMPERVANS, TRAILER TENTS AND TENTS WITH CARS
For sleep in vehicles and those that want their car right next to their tent.Take a pitch between the two hedges. A pitch is between two fence posts - park against the big hedge on the left leaving a track for others.
CAN ADULT ONLY GROUPS BOOK?
We are predominantly a family campsite and do not take bookings for adult only groups of more than 4 adults. However our Yurt Camp, Magical Glade or Shepherd's Huts might be perfect for you.
CAN FAMILY/FRIEND GROUPS PITCH UP TOGETHER?
We can accomodate groups of families/friends if they are happy with our 10.30 noise curfew. We don't have pitches - it is a first come first serve basis.
We ask for no amplified music at any time and no noise after 10.30pm
CAN WE HAVE A FIRE?
Fires can be made in braziers that do not scorch the grass, either your own or hired from us (£5 per 2 nights, but not bookable in advance).Do not light fires on the ground itself. Ash from braziers can be emptied into the metal tank in the open barn. FIREWOOD can be bought from the farm shop. No scavenging for firewood in the woods, many small creatures live in dead wood and it is a very valuable habitat.
IS THE TAP WATER DRINKABLE?
The water taps are round the back of the loos and on the edge of the wood by the car park. The water is safe and delicious to drink, straight from our bore hole.
WHAT SHOULD WE DO WITH OUR RUBBISH?
This is a leave no trace site meaning everything that was brought needs to be taken away. The farm shop has glass, tin, paper and shoe (!) recycling bins however there is NO plastic OR landfill (black bag) facility so please take this away with you.
WHATS THE LOO SITUATION?
NEW! compost loos for 2022. Still the same rustic charm but a more efficient composting system (no smell!).
DO YOU HAVE SHOWERS?
There are two shower huts constructed from reclaimed timber and clad in Western Red Cedar from the farm. Both are hot gas powered showers. PLEASE be mindful of water and gas usage.
WHERE CAN WE WALK ON THE FARM?
You are welcome to explore our Farm Trail- there are often cows and sheep along it (see map/look out for the white arrows). Quite often there is a farm walk – see website or board at shop. We ask you not to enter fields with livestock for your own safety and to reduce stress for the animals. You are welcome to talk to them over the fences. If in doubt don't touch the fence – it could be electric.
WE NEED TO BRING AN EXTRA CAR BUT DIDN'T PUT IT ON OUR ORIGINAL BOOKING.
Please let us know when you check in so we can issue you a car pass. If the campsite is fully booked the car will need to be parked in the farm shop overflow car park (5 mins walk to campsite). You can use your other car to ferry you equipment round to the campsite. If the campsite isn't full it can be parked in the car park on the campsite.
DO YOU HAVE A SHOP ONSITE?
We have an award winning shop and organic cafe 5 minutes walk from the campsite. We sell a huge range of organic food including veg, fruit, bread, meat and dairy products from the farm. All the usual groceries and store cupoard essentials, ice-cream, alcohol, loads of treats , loo roll, soap, firelighters and pretty much anything you could possibly need!
The cafe (2021 re-opening dates TBC). Coffee and cakes all day and lunches, wifi and some outside seating for cafe food. Weekday and Saturday's lunch is veggie, Sunday lunch includes a meat roast straight from the farm with vegan/veggie choices too and yummy homemade puddings. We do not take bookings in the cafe.
CAN WE BRING OUR DOG?
Sorry, this is a DOG free zone – this is a stock farm and we can take no chances.
WHAT SHALL WE DO IN AN EMERGENCY?
There is a Minor Injuries Department at Cirencester Hospital. This is located on the Cirencester ring road opposite Waitrose.
If you need to call emergency services the campsite is the next field entrance after the organic farm shop on the B4425 Burford Road out of Cirencester. Remember to meet them on the road as the gate padlock needs unlocking.