Lower Wiggold Holiday Cottage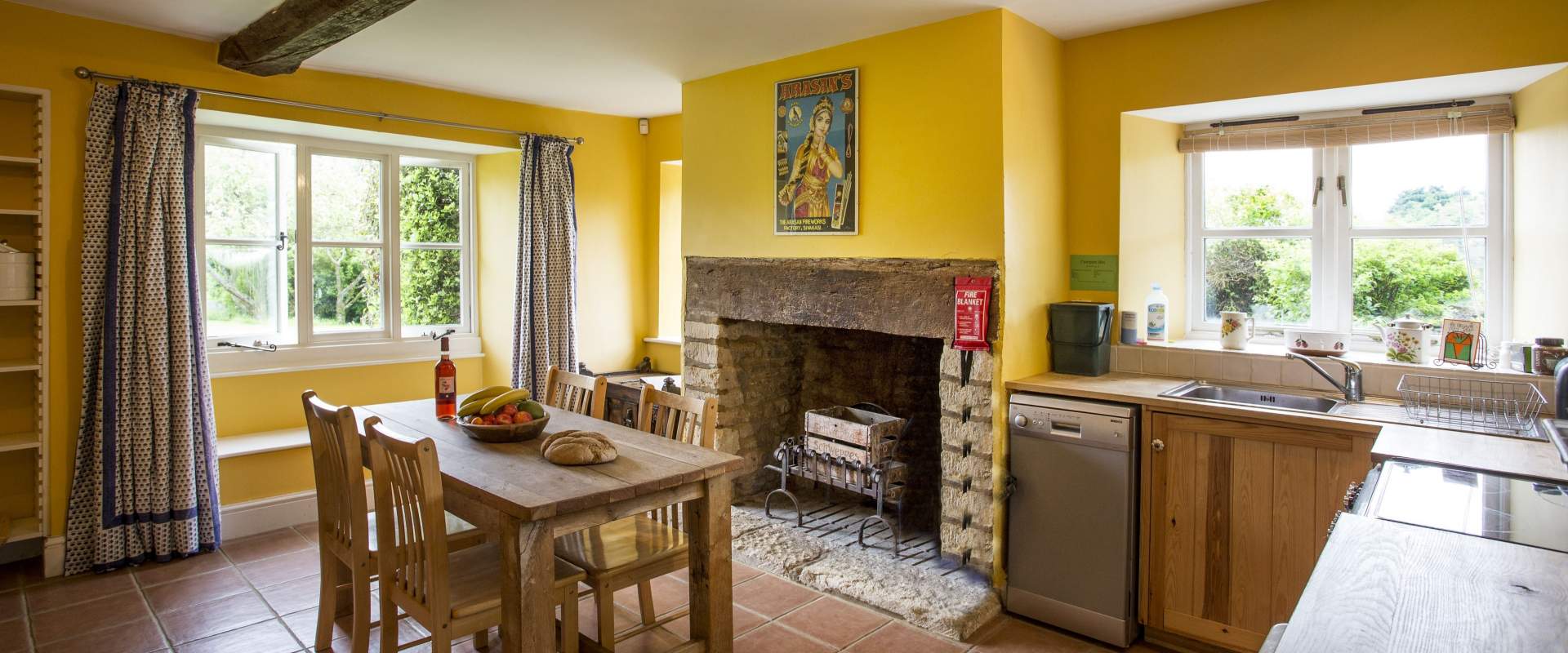 Location
A two bedroom old Cotswold stone semi-detached cottage in the depths of the farm far from the hustle and the bustle. Surrounded by horses, cows and fields
Suitable For
Peace and quiet nature loving family or small group of friends
What's Inside
- Fully equipped kitchen/dining room
- Large sitting room with a woodburner, TV and DVD
- Spacious double bedroom with gorgeous views and a 5' bed made of cherry from the woods
- A small twin bedded room
- Family bathroom with bath and separate shower
- Unusual old and reclaimed furniture from our travels in India
- Solar thermal for the hot water and an air source heat pump for the radiators
- Travel cot and highchair available
What's Outside
- A small south facing garden, where you can sit and dream, watch the sheep, horses and cows in the fields around you
- Table, chairs and brazier
What To Bring
- Boots, books and bikes...
What Not To Bring
- Not too much food!...the farm shop is full of fresh veg, fruit, meat, dairy and bread (baked daily) from the farm as well as all the groceries, alcohol and household items you could ever need. Delicious homemade ready meals to pop straight in the oven. (The cafe, currently closed due to Covid-19 serves hot drinks and cakes, light breakfasts and delicious vegetarian lunches, with meat from the farm on a Sunday)
Important Info
- Arrival from 4.30pm
- Departure by 10.30am
- Organic bedlinen and towels are available to hire (double bed £12, singles £10)
- If you are bringing your own bedding there is a kingsize duvet and 4 pillows in the main bedroom and 2 singles and 2 pillows in the twin
- Sorry no dogs as this is a working farm
- Parking 2 minutes walk from the cottage, there's a wheelbarrow to pop your bags in
Cost
Arrival days are Monday and Friday
School Holidays
Friday to Monday (3 nights) : £375
Monday to Friday (4 nights) : £500
Friday to Friday (7 nights) : £875
Term Time
Friday to Monday (3 nights) : £300
Monday to Friday (4 nights) : £400
Friday to Friday (7 nights) : £700
Christmas & New Year 2023
22nd - 28th December (or any time between) £1050
28th - 2nd December (or any time between) £750
Availability:
Friday, July 12th, 2024
Saturday, July 13th, 2024
Sunday, July 14th, 2024
Booking Form:
"We really enjoyed our stay at Lower Wiggold Cottage. The cottage is cozy and was just perfect for our family. We all enjoyed evenings relaxing by the fire and mornings watching the horses grazing on the fields outside. The kitchen is well equipped for cooking and the farm shop has everything you could need (and more!). Location is brilliant for exploring the Cotswolds. We only wish we could have stayed longer!
"Thanks again for such a wonderful stay on the farm. It was everything we hoped it would be and more. Most of all it was peaceful and calming, which is something most travellers these days are not looking for, expecting, or recognizing. Thank you all for your open and genuine hospitality."
Ooni Pizza Oven
The oven will be delivered to your accommodation and set up ready to light. It comes with everything you need to cook amazing wood fired pizzas in under 2 minutes, including wood, firelighters, rolling pin, pizza peel etc, all you need to do is provide the ingredients.
Homemade organic dough and tomato sauce is available to buy from the Farm Shop plus lots of toppings, many from the farm (depending on the time of year you could have an almost completely local pizza).
The oven costs £25 per night (excluding ingredients) and is suitable for up to 8 people. For groups over 8 you will need to hire two ovens.
Please enable Javascript to use our booking system